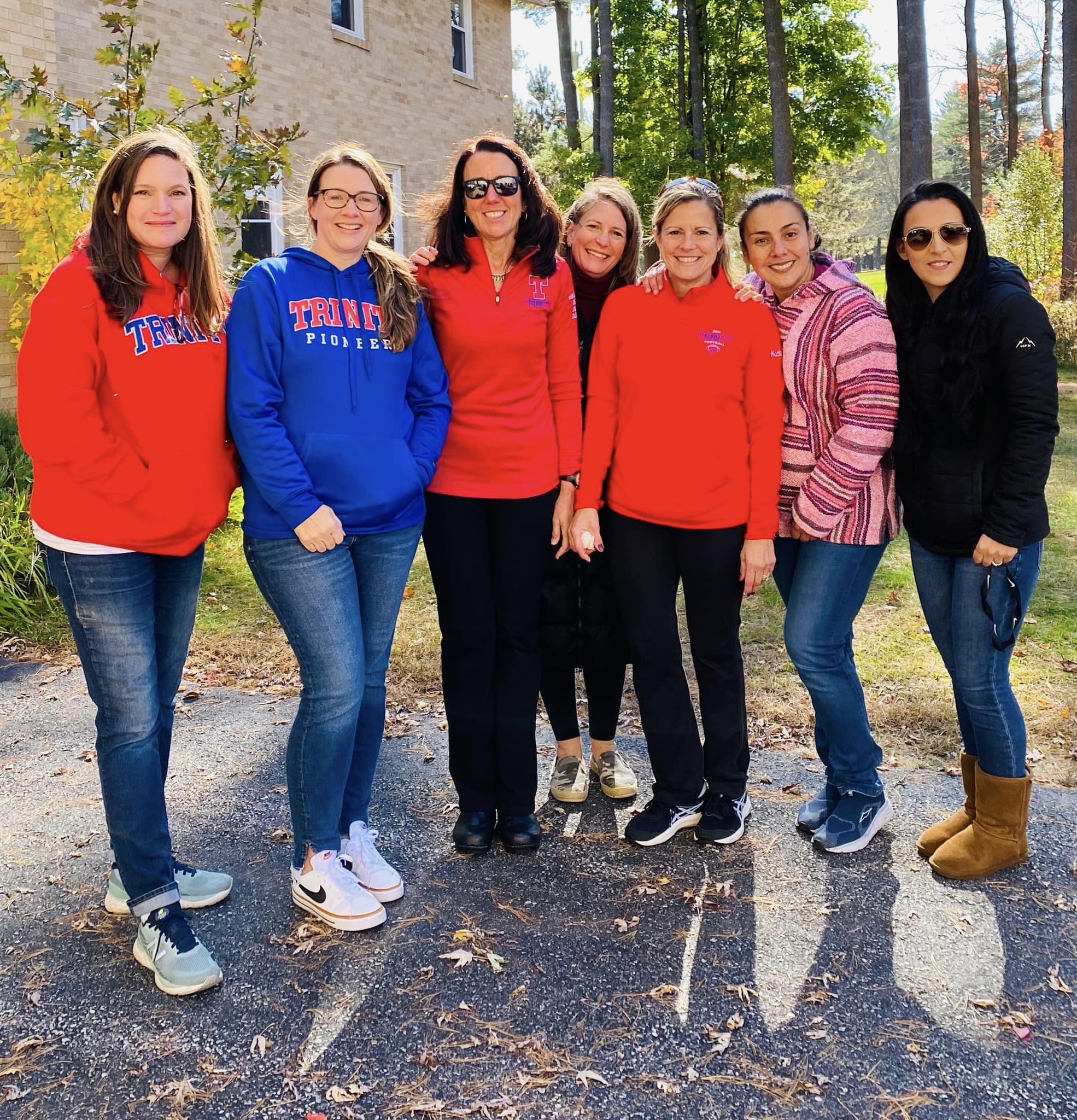 TRINITY HIGH SCHOOL PARENT GROUP
Welcome to the 2022-2023 school year. The THSPG, is planning a number of events for the coming year. Some are social, some opportunities to volunteer, and ways to get involved. More Information will be coming soon.
The THSPG is always looking for new ideas, volunteers, or committee members. Complete the form below to join one of our committees. Looking for more information, email us at THSPG@trinity-hs.org.
​​​​The Trinity Parent Group is open to all parents and teachers of Trinity High School. The purpose of the Parent Group is to help our Trinity community with various events during the school year as well as provide opportunities to meet other parents. Social events for Trinity parents are organized throughout the school year, including Trinity Night at McIntyre (October), Auburn Pitts Bonfire (January), Parents Night Social (May).
The Parent Group comprises an Executive Committee (President, Vice President, Secretary, Committee Chairs/Co-Chairs) and several committees: Advancement, (admissions, events, fundraising, marketing), Arts/Drama, Athletics, Spiritual, Teacher Appreciation. We are looking for volunteers to help us throughout the year in any capacity. See right side for Executive Committee Members.
All parents are welcome to attend our '22-'23 meetings to be held at 6:30 pm on on four Tuesdays during the year. The first one of the year is Tuesday, September 20th.
The agenda and location will be emailed to all parents prior to the meeting. They are also listed on the school's master calendar.
Learn more about the Parents Group, click here for the description of the committees. Below is the volunteer interest form, complete and a member of the Executive Committee will reach out to you. Thank you for your interest.
The THS Parent Group also runs THE BIG $$$ Raffle. Only 250 tickets are sold at $100 each. With 17 chances to win, prizes range from $200 to $5,000. To buy your raffle ticket, click here. Thank you for your support.
2022-2023 THSPG
Executive Committee
President: Nicki Rosenthall '93,P'21'24
Vice-President: Joanne Tomko P'19'21'22'24
Secretary: Stephanie Strandson P'25
*Committee Chairs:
Advancement: Shayne Durant P'19'2124
Arts/Drama: Michele Boyd P'17'22
Athletics: Sue Bradley P'18'22
Spiritual: Laura El-Azem P'19'20'2,'24
Teacher Appreciation: Kay Mulcahy P'21'24 & Patricia Kuhlhoff P'23

Staff Liaisons:
Steve Gadecki, Principal x 211
Denise Brewitt, Director, Institutional Advancement x 226
* Looking for interested parents to co-chair these committees. Complete the THSPG interest form on the left.