HALL OF HONORS
Trinity's Hall of Honors was conceived to recognize alumni who serve as outstanding examples of lives invested in service to country, community, and faith. The examples of these alumni help us complete our mission by inspiring our students to think of success and happiness in terms of service to others and to ask ourselves how this world is a better place for our having been here.
Do you know an alum who deserves to be recognized for outstanding service? If so, please email your recommendation to alumni@trinity-hs.org
2022 Hall of Honors ~ Tues., June 7, 2022
This year's inductee, Maurice 'Mo' Maurier '72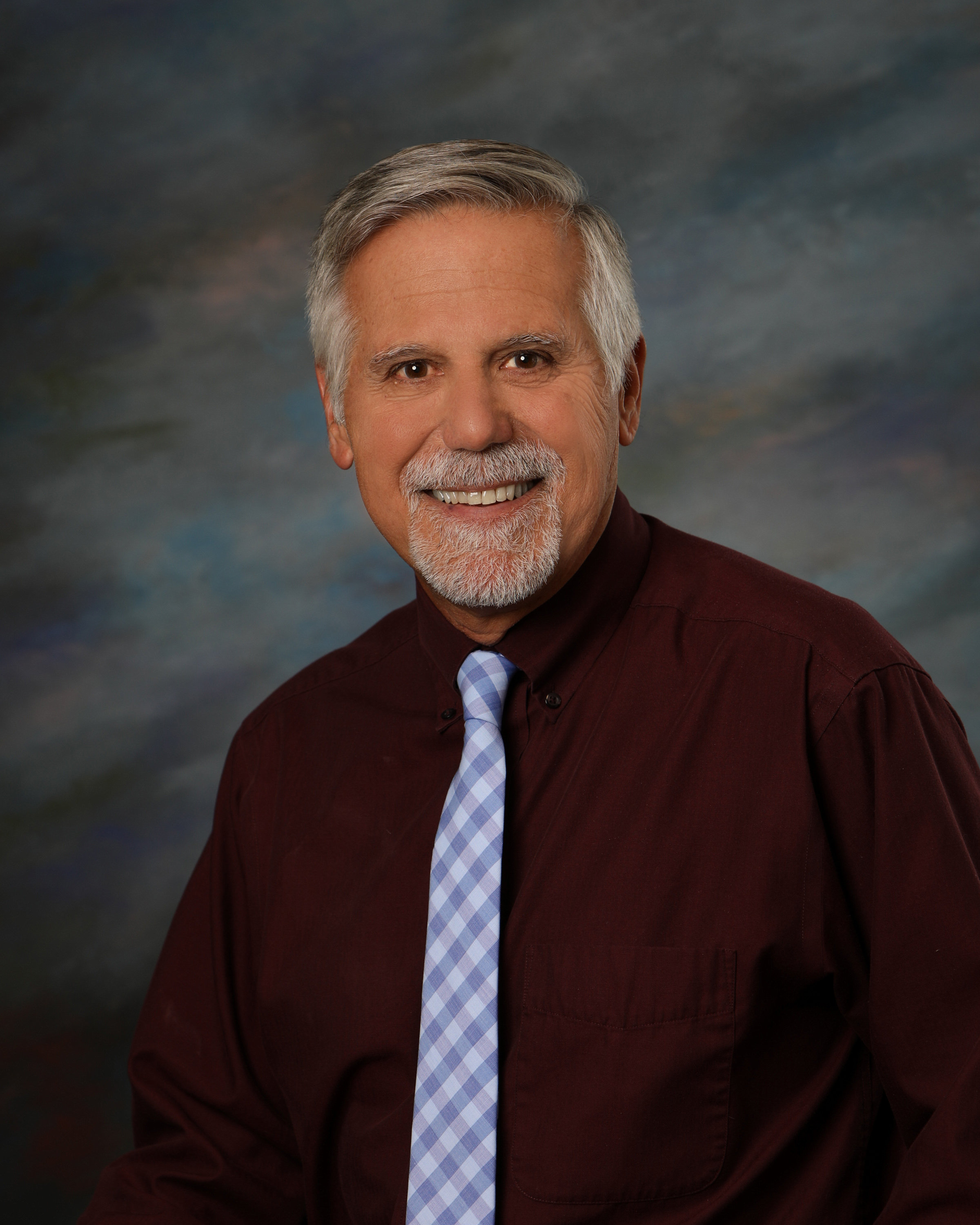 Join us for the 2022 Hall of Honors Induction Ceremony & Dinner on Tuesday, June 7, 2022, at the Executive Court Banquet Facility.
This year's honoree has dedicated his teaching career to Trinity High School and the thousands of students who have entered his science lab. Mr. Maurier will be retiring at the end of this school year after 46 1/2 years of dedication and commitment!
Tickets are $45 per person, click here to purchase your tickets and/or make a donation towards a scholarship to be created in honor of Mr. Maurier for a rising senior with an aptitude for science as well as the naming of the Life Science Lab.
Please RSVP by Wednesday, June 1st. Click Here for ticker
A few surprises have been planned for the evening in addition to the Hall of Honors induction.
Mrs. Carolyn Trachim would like former Chorus members to email her, ctrachim@trinity-hs.org, regarding the June 7th event and has a message below for all to share their memories, thoughts, and well wishes for Mr. Maurier: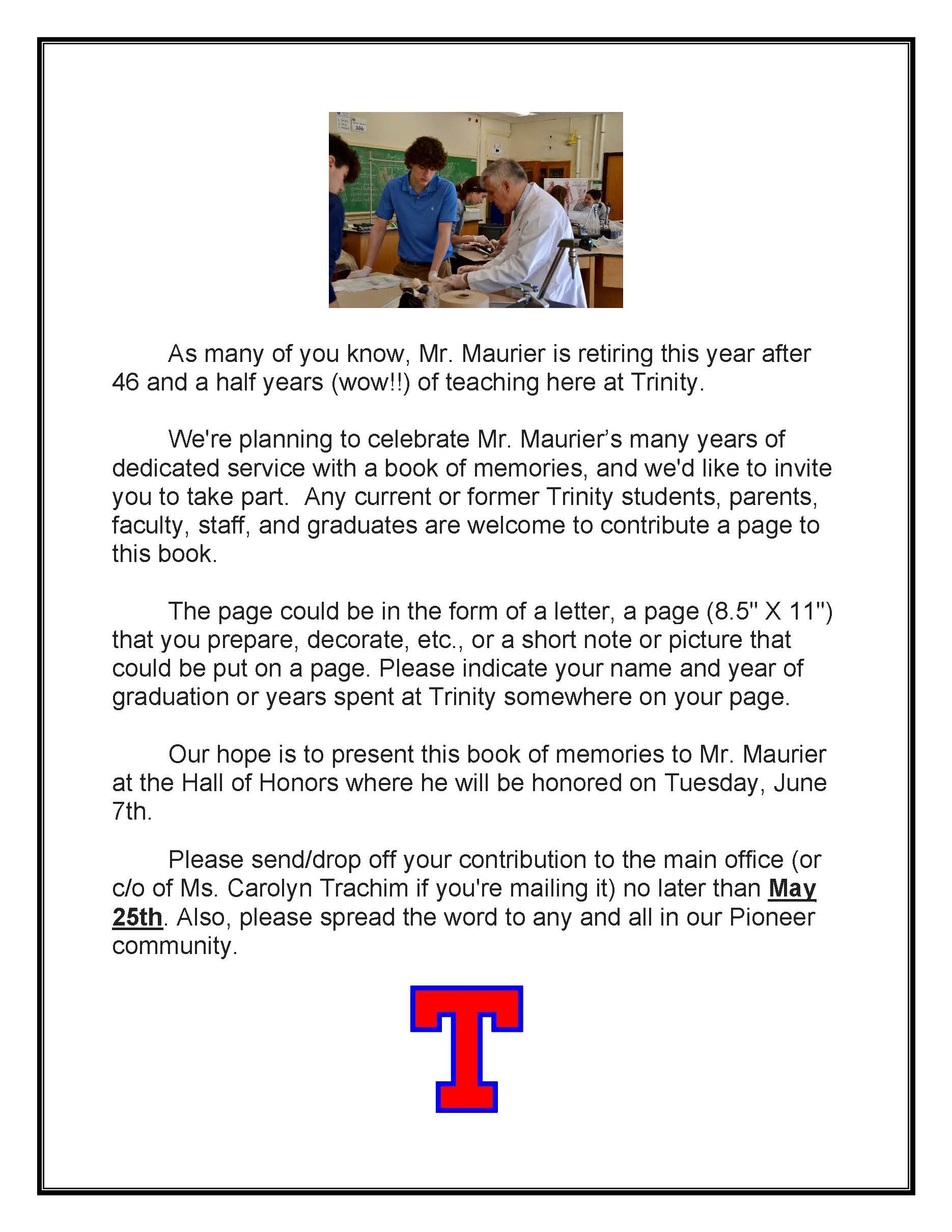 Past Honorees
2014
Rear Admiral Arthur J. Lawrence, Bishop Bradley High School, Class of 1965
Gary & Nancy Piecuch Chartand, Trinity High School, Class of 1972
Cardinal Gérald Cyprien Lacroix ISPX, Trinity High School, Class of 1975
2015
Nicholas Ashooh, Trinity High School, Class of 1972
Nancy L. Parenteau, Trinity High School, Class of 1972
Ovide Lamontagne, Trinity High School, Class of 1975
2016
Daniel Mullen, Trinity High School, Class of 1990
Shannon Cappone Kirk, Trinity High School, Class of 1991
Kathleen Rice Orshak, Immaculata High School, Class of 1969
2017
Walter Ordway, Bishop Bradley High School, Class of 1960
Sister Anthony de Lourdes, Trinity High School, Class of 1972
Jane E. Young, Trinity High School, Class of 1982
2018
Denis Mailloux, Trinity High School, Class of 1972
2019
Frederick A. Jakobiec MD, DSc, Bishop Bradley High School, Class of 1960
The McHugh Family
Kevin T. McHugh, (posthumously), Bishop Bradley High School, Class of 1952
Lea Mariseau McHugh, Saint Marie High School, Class of 1955
Brian McHugh, Trinity High School, Class of 1993
Thomas McHugh, Trinity High School, Class of 1990
Mary Beth McHugh Vozzella, Trinity High School, Class of 1987
2021
Elizabeth Crawford Brooke PhD, Trinity High School, Class of 1990 ​

The Honorable Richard E. Galway, Bishop Bradley High School, Class of 1961

Monsignor John Quinn, Bishop Bradley High School, Class of 1960
See Who's Coming as of May 14:
Derick Alexandre
Annika Anderson
Matt Arnold
David Bishop
Trent Bosquet
Michael Boutselis
David & Michele Boyd P'17'22
Paul Boyd '17
Theo Boyd '22
Denise Daly Brewitt '90/P'16'17'22
Amber Byron
Monique Cairns '03
Matt Carnevale
Nina Caruso
Catherine Collard '03
Miranda Comiskey
Mike Connell '90
Nancy Doucet P'18'20
Sara Doucet '20
Daniel Evans '22
Marisol & Matt Evans P'22
Kevin Fraser '89P'14'18'20
Steve & Cathy Gadecki P'10'12'13'15'17
Fr. David Gagnon '11
Maria Giberti
Zach Gray
Megan Guerra P'23
Mike Healy '78
Robert Healy '59
Judy Lauze P'02
Andrew Lavoie
Deb LeBlond P'16
AJ Lemarier
Sarah Levesque
Ivy Levine
Timothy Lolicata '89
Ron & Linda Losier
Mike Martinez
Mo Maurier '72
Julie McElroy
Beth McFadden Campbell '03
Don Mullen
Marigrace O'Leary P'07
Jessica Plummer '01
Andrea Riley P'22
Theressa Risdal
Corinne Robinson '18
Kathie & Mark Roy P'19
Nicholas Roy '19
Tom & Mary Lynn Sacerdote
Kaari Schrader
Kim & John Schwamb P'15'17'19'23
Donna Sewall P'22'24
Sarah Sewall '24
Louis Sievers
Finnian Smith '21
Pat & Kimberly Smith P'21'22
Tim Stap
Tom Tatterfield
Abbey Thompson '14
Carolyn Trachim P' 08'10
Lisa Twitchell '86/P'18'20
Mary Lou & Steven Twomey P'01'04'05'07'13
Danielle Waldrupe
Mia Webber '21
Shauna Webber P'21'23
Karen Weidner
Lily Woo