We have many students who decide to begin their journey as a Pioneer as a transfer student from another high school. If a student is interested in transferring to Trinity High School, we encourage you to schedule a Shadow Day and Tour of our school. Transfer students are not required to take a High School Placement Test but will have an interview with members of the administration.
If you are interested in applying to Trinity High School as a transfer student, contact Denise Brewitt, Admissions Director, at dbrewitt@trinity-hs.org or 668-2910 Ext. 226.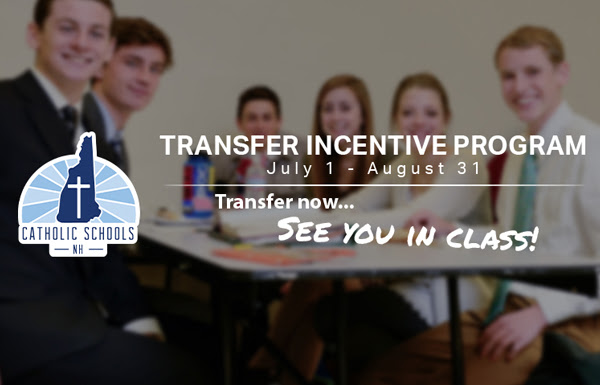 The Catholic Schools of New Hampshire are reopening their doors and resuming in-person classes this fall. Transfer from any non-Catholic school to one of our Diocesan Catholic schools and receive a tuition credit! Interested in Trinity High School? Contact Trinity's Admissions Office for more information, admissions@trinity-hs.org or 603-6682910 ext. 226!