Class of '72 50th Reunion ~ Saturday, June 18, 2022
Executive Court Banquet Facility, So. Mammoth Road, Manchester
The '72 Reunion Committee has worked hard to make this reunion a special evening! All the information is below on the image of the recent postcard, which was mailed in late September. If you did not receive one, email alumni@trinity-hs.org to update your contact information. Formal invitations are to be mailed in late March but you may register today.
Keep checking back to see who is attending. The list is on the right. A block of rooms has been reserved at the Executive Best Western, adjacent to the Banquet Facility.
For tickets and/or donate to our Class Gift,
click here
.
A Facebook page has been created to keep you updated: Trinity High School 1972 50th Reunion.
If you have any questions, contact a member of the Reunion Committee:
Nancy Alibrandi-Griffin: ycnangriff@gmail.com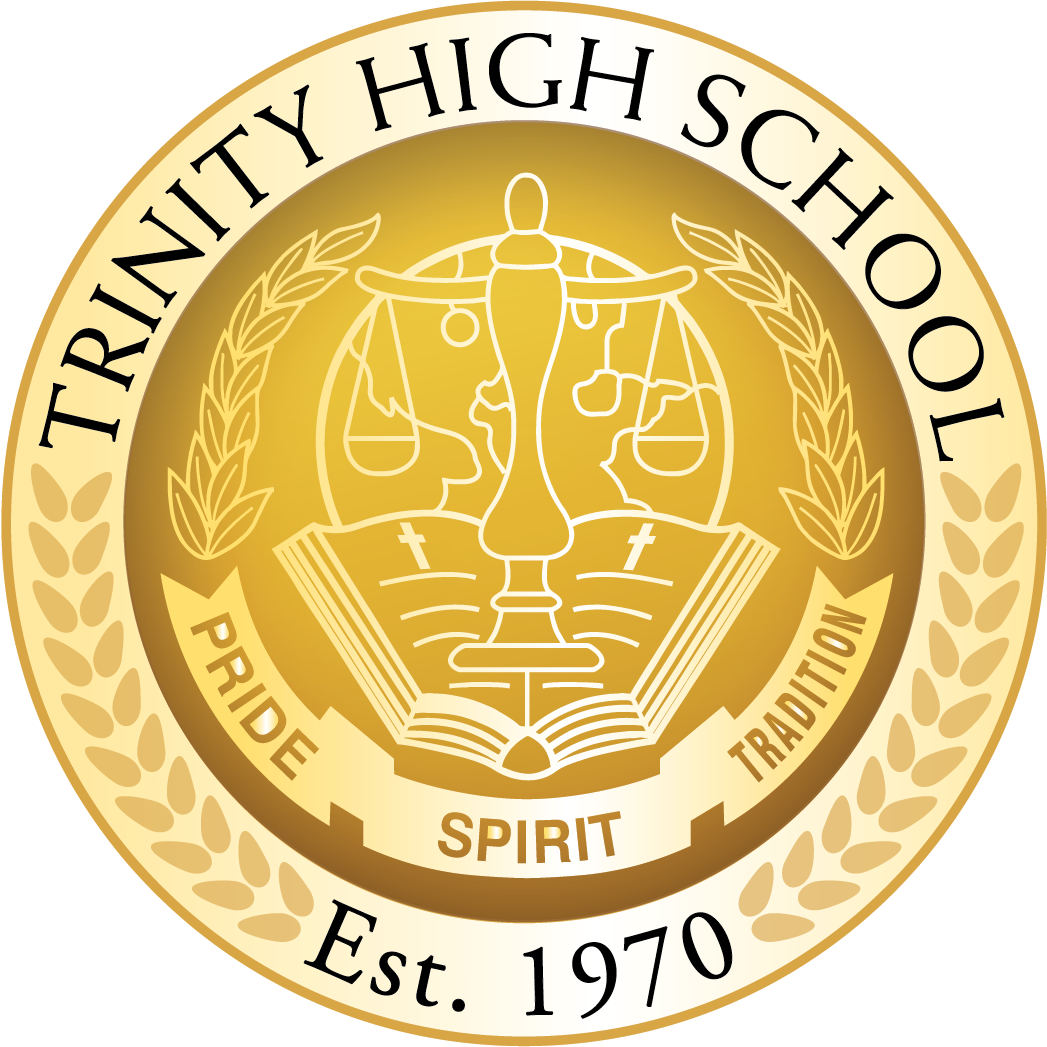 Nick Ashooh: nickashooh@att.net
Michelle Aubin-LaBelle: labellem1027@gmail.com
Claudette Brunette-McDonald: cmcd02@gmail.com
Maureen Cullity: mccavewoman@gmail.com
Russell D'Agostino-Dudka: dagdud@msn.com
Barbara Fifield-Gleason & Mike Gleason: mglea00@comcast.net
Cindy Macek-Walsh: walshatburnsen@comcast.net
Barbara Mantegani: bjm6775@yahoo.com
Cindy Mooney-Gaffney: clgaffney@comcast.net
Maureen Norton-Murray: maureen.osborn5@gmail.com
Diane Touzin: dtouzin@comcast.net
Doris Veilleux: sav19548@aol.com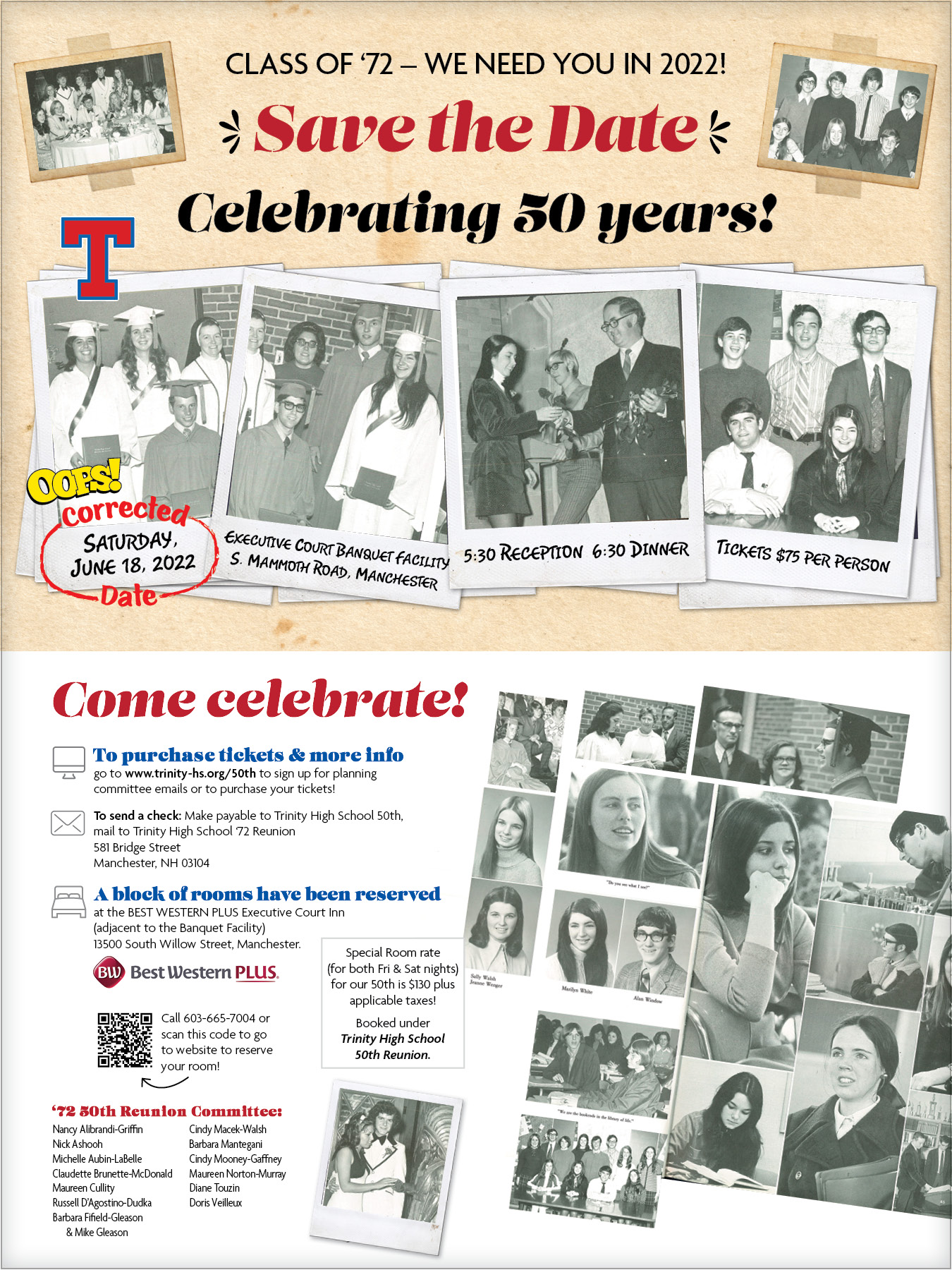 See's Who's Coming
Nick '72 & Brenda Ashooh
Dave '72 & Janice Aubin
Gloria Bellavance Benoit
Denis Bilodeau '72 & Janice Murdoch
Denise Aubert Biron '72
Lucille 'Pinky' Drake Cook '72
Maureen Cullity '72
Russell '72 & Linda D'Agostino-Dudka
Barbara Garrett '72 & Diane Van Houten
James & Nancy Ruhe '72 Gesuelle
Michael '72 & Barbara Fifield '72 Gleason
Flora Goodno Goley '72
Nancy Alibrandi Griffin '72
Dennis '72 & Lynne Heymans
Ginny Interrante '72
Don & Roxanne Millville '72 Kate
Donald & Michelle Aubin '72 LaBelle
Marlene Lein '72
Richard '72 & Sandra Lessard
Barbara Mantegani '72 & David Raglin
Mo Maurier '72
Ted Mavrakos '72 & Brenda Fountain
Ken & Claudette Brunette '72 McDonald
Richard & Maureen Norton '72 Murray
David & Debra Bolduc '72 Prouty
Donna Paquette-Seigel '72
Sandra DeYoung Tombari '72
Diane Touzin '72 & Allen Houle
Doris Veilleux '72 (Sr. Anthony de Lourdes)
Jeanne Wenger '72